Community Spotlight: vVv Echelon Wins CoD:AW 1v1 Tournaments at I54!
Posted on April 10, 2015 by Ballack
vVv Echelon wins Back to Back CoD Advanced Warfare Tournaments at Insomnia 54!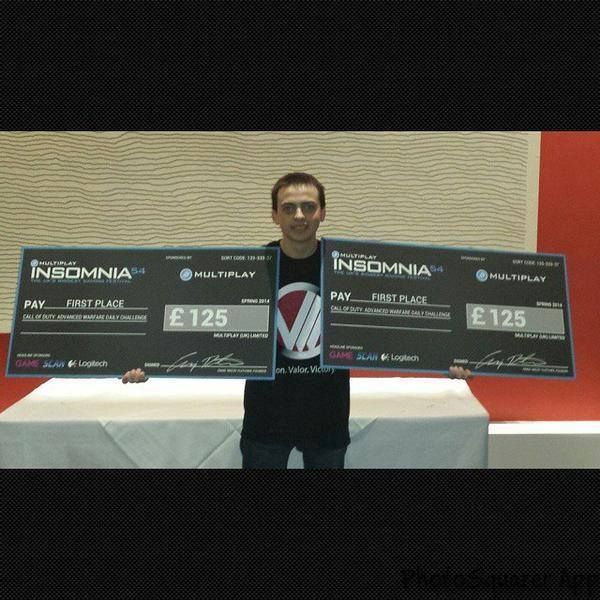 On April 4th and 5th vVv Echelon competed in the CoD Advanced Warfare Daily tournaments at Insomnia Gaming Festival 54. It ended up being a very successful weekend for Echelon as he captured titles on back to back days. We caught up with Echelon to talk to him about his experience and the glory of winning two titles in two days.
Ballack: First and foremost congratulations on winning the Insomnia 54 CoD Advanced Warfare daily tournaments! For those who may not know you too well, could you tell us a little about yourself and how you first got into CoD?
Echelon: My real name is Michael, I'm 17, and have been playing competitive Call of Duty on and off for 3 years now. I didn't take it seriously as far as going to LAN events until last April at i51 where I played CoD: Ghosts.
B: What was the format for the daily tournaments at I54? Tell us a bit about how the weekend played out. How many games did you play? What game modes, etc.
E: I didn't know that the daily Call of Duty tournaments were on in this format until two days before the event when the 4v4 tournament got cancelled due to conflicting dates with the Gfnity open. The daily tournaments ran on Friday, Saturday and Sunday. I missed the Friday event because we got stuck in traffic while traveling. Onto Saturday, registration opened at 10:30 and there was a maximum tournament size of 32 players. I just made the cut as sign ups were full after 5 minutes. The format was supposed to be 1v1 Search and Destroy but was sadly changed for the Saturday and Sunday tournaments as after Friday it was clear that the defense side had too much of an advantage and that 1v1 S&D also has an element of luck involved. So it was changed to 1v1 FFA up to the final match which was an eight man FFA and the top three players received a payout. The Saturday game was a lot easier than Sunday's. I was dominating my 1v1s 15-1, 22-0 etc. up until the final FFA which was on the map Riot. I dropped 51 kills which secured me a comfortable 1st place victory.
Sunday is when the struggle started. I was doing fine until the semifinal match on Retreat which I barely managed to get through by 3 kills. By the time the finals came around I was getting a little bit nervous. I didn't see why I was nervous, after playing against the likes of madcat in a LAN setting before but with 2 minutes to go I was trailing by 10 kills. At this point I just took a deep breath and got setup in the power position on Terrace at showers. I got killed after tying it up at 51 kills and with 16 seconds to go I spawned by the pool. From this point I picked up one kill, headed up the stairs to pick up another kill and turned around for the 3 piece kill as I headed back to the showers. Once I was back to the Showers I picked up one more kill which secured me the victory and my second 1st place finish of i54.
B: That Sunday game sounded intense! Nice to see you pull it out in exciting fashion. Insomnia is known as one of the largest gaming festivals in the UK. How large was the field for the CoD tournaments and did you expect to do well heading into the weekend.
E: The COD tournament was a lot different and smaller than normal as its usually a 64 team 4v4 event but was a 32 player 1v1 event which was due to the 4v4 being cancelled because of the Gfinity open. The field could have been increased to 64 or even a 128 player event as it was generating a lot of interest. I expected to do okay because the really big names like swanny, madcat, markyB were all down at Gfinity but I didn't expect two first place finishes.
B: You've also been to I51 and I53, as well as I54, how did this weekend compare to those weekends? Is the CoD scene in the UK alive and thriving in your opinion?
E: With the amount of people wanting to participate there's definitely some growth from every event I have been to. However, it will be a long time until the UK sees MLG type prize pools and tournament sizes. I didn't expect the turn out that there was at the i54 considering the Gfinity open was on the same dates, but it was definitely good to see.
B: What's next for you? With I54 being over are you planning on Attending I55 in August? In the time before then what will you be up to?
E: As for i55 I will sadly not be able to attend because I have to pay it all out of pocket which is becoming a lot harder. I need to thank my parents for paying for the events for me if I can't come up with the money. Between now and then the next event I will be attending is AM2PRO in Blackpool in July so until then I will be finding a solid team which I think I have found, grinding the game and streaming it.
B: Is there anything else you'd like to say about your experience at i54?
E: Altogether it was a fun experience. I know it wasn't your normal call of duty tournament since they are usually 4v4 but it made a great change of pace. We were still playing in a competitive environment but with different game settings it really changed the play style that you would usually play. I think we need more events that do this like how halo has the 4v4 tournament and then FFA tournaments. Something like keeping the FFA as a mini tournament as well as the big 4v4. I think it would be a good idea and would let teams and sponsors see up and coming talents that wouldn't usually get a shot because their names are overshadowed by the players who are already pro.
B: Thanks for your time today Echelon and congrats once again. How can we follow you?
E: Follow my twitter @vVv_Echelon and my twitch stream mikemc757.